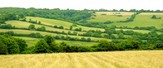 Walk - Bridport - Helen T
Starting & finishing in Bradpole near Bridport - a lovely 10.5 mile Sunday walk for those not on the weekend away...
The walk will follow much of the Mangerton River valley and parts of the 'Ant Hill Trail' set up by the Dorset Wildlife Trust. From Bradpole to Loscombe onwards and upwards to South Poorton.