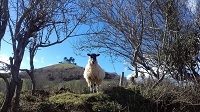 Walk - Bridport - Paula H
West Dorset walk approx 9 miles of medium difficulty walking with hills!.... We will explore Coneygar Hill first before heading west to climb Allington Hill. They use horses to help with clearing on this land.
Then we will walk to Symondsbury village before exploring the countryside to the north west. We will climb Colmers Hill on the way back to Bridport.